Burn Survivors & COVID-19: Thriving in a Post-Pandemic World
Written by Jennifer Harris
Introduction
With the onset of the COVID-19 pandemic, the world began to explore new ways to connect and engage despite needing to stay apart. However, even though technology provided us with the ability to keep the world connected—the need for physical connection with others remained. Humans need physical contact by nature—and with this suddenly ripped from under us, the world began to see the actual effects of this isolation. The need for mental health support has become even more necessary than before. Studies have shown that within the first year of the COVID-19 pandemic, the global prevalence of anxiety and depression increased by 25%.
The need for connection became even more true for burn survivors injured just before or during the pandemic. Survivors, at risk for complications from COVID, were asked to stay even further isolated from the world. Even more, survivors also had a decreased ability to "get out" at all—with grafts and healing wounds impeding their ability to connect outside the four walls of their homes or hospital rooms. While everyone felt that sense of 'languishing' (a term shared by the NY Times for that sense of emptiness we were all feeling), those experiencing a burn injury had a more difficult time with that sense of loneliness.
Before the pandemic, survivors could meet for in-person support groups or connect 1:1 with another survivor who had gone through a similar experience. Since the onset of the pandemic—hospital support groups shut down, and only necessary, essential staff were admitted to the bedside. Family and friends were not permitted in many hospitals, and those that could get in received minimal access. In addition, hospitals were no longer a place you wanted to be—unless you needed to be present—and staff rushed you home due to safety concerns. But once home, isolation truly began to set in, and not having a steady support system present became even more concerning.
Download a PDF version of this guide by filling out this form, or keep scrolling to learn more.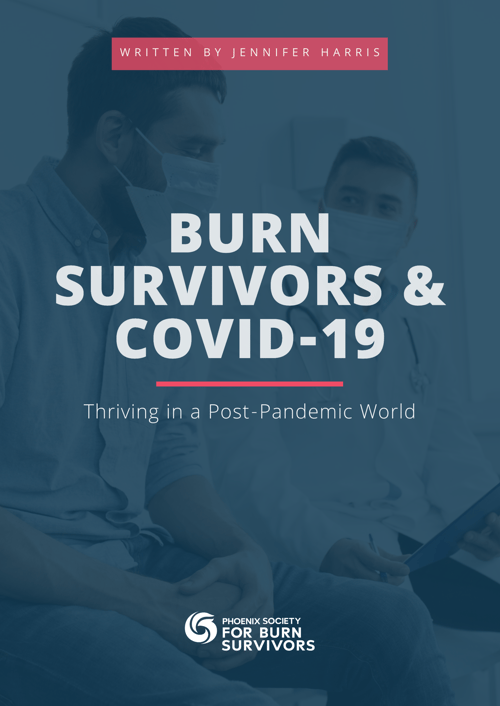 About the Author
Jennifer Harris, MSW, LICSW

Jennifer Harris, MSW, LICSW is Clinical Social Worker/Psychotherapist working extensively with people impacted by trauma, loss, and grief for the past 15 years. enn began her Clinical Social Work career at Massachusetts General Hospital in Boston, MA where she worked with people impacted by the onset of trauma, illness, end of life and bereavement. While at MGH, she developed a curiosity about how trauma/loss impacts people's emotional wellbeing. She completed a yearlong certificate program in Trauma Informed Care from Simmons School of Social Work, which deepened her expertise to support people in their coping to navigated "not what is wrong with me, but what happened to me". Currently she works in private practice. She has been involved with the Phoenix Society for Burn Survivors for the past 9yrs in various capacities, including starting the virtual peer support group three years ago. She also facilitates support groups for trauma/loss survivors, and provides consultation to organizations to support their programing impact of people coping with trauma and loss. For the past 12yrs, Jenn has been a volunteer Healing Circle Leader with Comfort Zone Camp, a weekend long program to support children/families experiencing grief.
Download a PDF version of this guide by filling out the form