Download Now: 2023 Journey Magazine - Edition Two
Get access to your digital copy of Phoenix Society for Burn Survivor's Community Magazine!
Journey Magazine is a publication written by the burn community, for the burn community. This free magazine is filled with content for the burn community including stories, information, and more.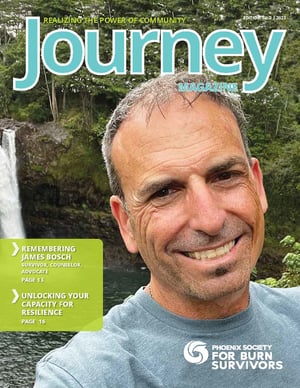 Inside this edition:
Remembering and Honoring James Bosch
Me, Enough? A Sibling's Story of Becoming Free of Guilt and Shame
What to Expect: Mental Health
A Message of inspiration from a Burn Survivor: Finding Purpose and Meaning
Unlocking Your Capacity for Resilience
From Loss to Life Calling
Ask the Experts

Burn Community Bookshelf
Download the Magazine & Subscribe!