Download Now: 2023 Journey Magazine - Edition One
Get access to your digital copy of Phoenix Society for Burn Survivor's Community Magazine!
Journey Magazine is a publication written by the burn community, for the burn community. This free magazine is filled with content for the burn community including stories, information, and more.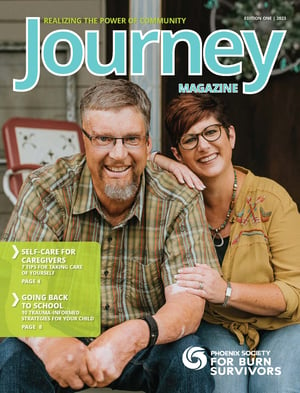 Inside this edition:
Self-Care for Caregivers
Visible Difference & Disfigurement in the Arts
Going Back to School: 10 Trauma-Informed Strategies for Your Child
After Suffering Burns from Boiling Noodles, 5-year-old Wants to be a Firefighter
Dating After a Burn Injury: Don't Settle For Less Than You Deserve
Burns Impact the Whole Family
Ask the Experts

Burn Community Bookshelf
Download the Magazine & Subscribe!