Download Now: 2022 Journey Magazine - Edition Two
Get access to your digital copy of Phoenix Society for Burn Survivor's Community Magazine!
Journey Magazine is a publication written by the burn community, for the burn community. This free magazine is filled with content for the burn community including stories, information, and more.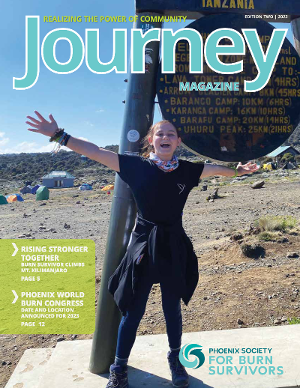 Inside this edition:
Rising Stronger Together: Courage Rising Team Climbs Mt. Kilimanjaro

What to Expect: Physical Healing (After a Burn Injury)

Learn More About World Burn Congress

A Survivors' Guide to Laser Treatment

Ask the Burn Injury Experts

Read About the Pilot for the Journey Forward Kit

Celebrate the 100th Anniversary of Fire Prevention Week

Burn Community Bookshelf
Download the Magazine & Subscribe!